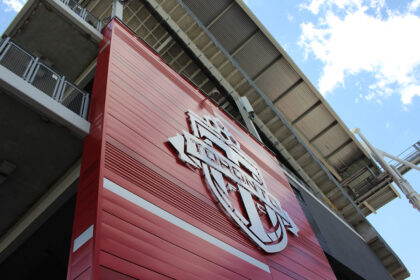 Custom Architectural Metal Screens & Signage
Why do basic elements like mechanical screens and signage need to be basic? Why can't they be dazzling? A showpiece? We think so too. The infinite design flexibility of LKMe panels allows you to create so many different and never-before-seen designs. Perforations, multiple lengths, differing panel depths, panel lengths over 20 feet, and hundreds of colour and finish options can all be part of your solution, and for less cost than you would think.
Discover What's Possible
Read on for a few examples, but know that nearly anything is possible—your imagination is the only limitation. We will customize mechanical screen or signage panels to your exact specifications and provide panel-specific engineering.
Case Studies
Project:
Pandora Mechanical Screen
Problem:
Create an attractive mechanical screen that matches the architecture of the building's wall systems.
Solution:
Combine perforations and three different panel profiles to make a beautiful screen for less cost than standard louvered options.
Project:
Pacific Centre
Problem:
Provide a modern, shimmering background for key Pacific Centre signage.
Solution:
Achieve one-of-a-kind signage by using perforations and two different panel angles.
Project:
University of Victoria Student Housing
Problem:
Hide unsightly mechanical equipment with an elegant metal curtain.
Solution:
Use perforations and three different overlapping profiles to achieve a great result: an attractive screen on budget.
Design Your Own Panel
Have an idea in mind? Discover the possibilities with our architect's tool and send us your sketch.
Let's Work Together
Get in touch to learn how we can enhance your architectural projects.